Volgende week beschikbaar – Nu met korting te bestellen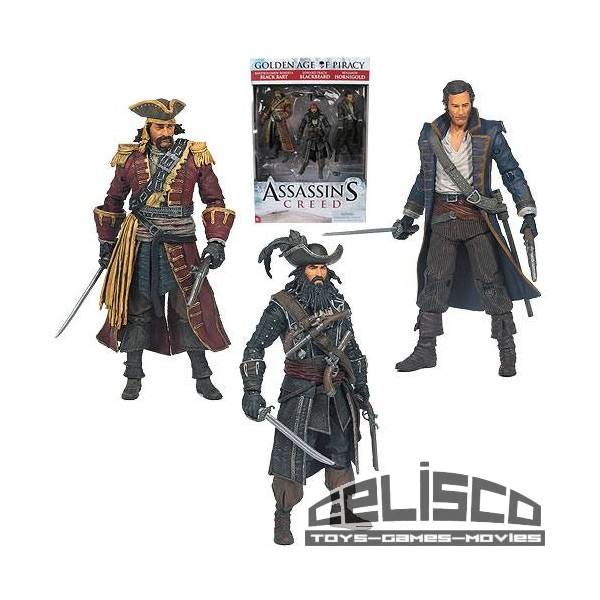 Volgende week beschikbaar – Nu met korting te bestellen
The Assassin's Creed Pirate 3-Pack unites three pirate action figures from Assassin's Creed IV: Black Flag in one convenient boxed set! Each highly detailed figure stands approximately 6-inches tall, includes an average of 25 points of articulation, and comes with his own accessories. Arrr, ye best order this set now, matey!
Edward Teach, better known as Blackbeard, is perhaps the most famous of all pirates. This cunning character was a master of presenting a fearsome appearance to shake the resolve of his enemies. At the height of his infamy, Blackbeard was so well known, so feared, that many of his targets would surrender at the mere sight of him! This figure of the legendary Blackbeard features about 27 points of articulation and comes with four pistols, a rifle, and a sword.
Also included in the Assassin's Creed Series 1 Pirate 3-Pack legendary pirate Benjamin Hornigold along with another pirate from Assassin's Creed IV: Black Flag. Details to be announced later. Each of the infamous pirate figures features the same game accuracy and attention to detail as Edward Kenway and Blackbeard, and each includes the same level of articulation and range of accessories as the other Assassin's Creed figures.
Assassin's Creed IV: Black Flag moves the action and adventure of the Assassin's Creed video game series to an all-new time and setting: the lawless Pirate Republic of the Caribbean. Set during the "Golden Age of Piracy," Assassin's Creed IV features legendary pirates like Blackbeard.